An old cab car at Samedan with the Berninamassiv in the background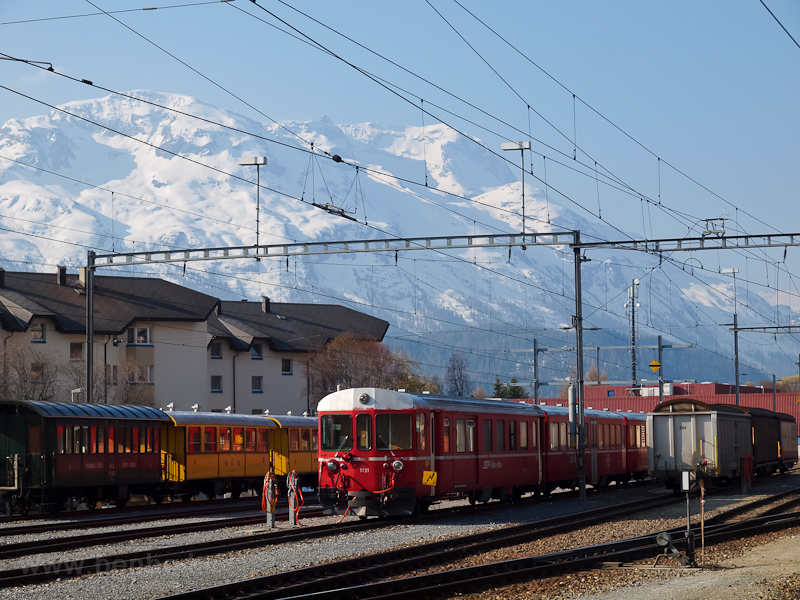 Photo by: Takács Bence
Captured at: 2011:04:19 08:56:06
694 views
These cab cars operated together with the old Ge 4/4I locomotives and the ABe 4/4 501-504 main line railcars, but because they planned to stop the Ge 4/4Is in the winter of 2011 there wasn't a big life ahead of this one, except for probably some historic duties. The ABe 4/4s used to be everyday sights on the Engadinerlinie twenty years ago but they don't plan on using the only remainder of the class on the 100th celebrations. Since I took this photo the world has turned around a few times: the Ge 4/4Is are back in duty, we photographed a unit on the Bergün to Preda sled train
(they turn to pass road into a long sled track for the winter and trains bring the people and the sleds back to the top) and the 1721 and 1722 cab cars were rebuilt to resemble the Stadler NEVA (Neue Vereina) driving cars operating on the Pontresina - Scuol-Tarasp Regio trains (no low-floor part though). We caught them on the sport trains between Davos and Klosters
this winter.
The yellow cars are the historic vehicles of the Berninabahn that didn't fit in the small shed at Pontresina (operates as an auxiliary of Samedan) and the red building is the big depot of Samedan. The Berninabahn runs in front of the Piz Bernina, by the small, pine-covered hill of Staz, and behind the hill starts its ascent to the Bernina-pass. The Berninabahn's station at Pontresina is the starting point of the Pontresina to Scuol-Tarasp passenger trains on the Engadinerlinie. You can get from St. Moritz to the Engadin changeing from an Albula REX at Samedan or by the few direct trains.
Photo by Takács Bence
Copyright 2005-2014. www.benbe.hu. Railway photography gallery of Takács Bence.